Product Management Courses online with Software
In these Product Management courses online with Software you will learn how to work in a practical and structured way according to Open Product Management Workflow™ consisting of the following courses, all including certification.
The software,   Product Management Dashboard®, automates and accelerates the work in product management significantly.
Note: For these product management courses our software is required and completely replaces the Product Management ToolBox™, i.e. the Word and Excel tools, which means that these tools are irrelevant, because you already learn the most modern tool for product management.
If you are interested in product management courses without software, you should attend our Product Management Courses online with Toolbox™.


Free materials for product management courses
Besides our product management software, you will work with Product Management books which you can download for free. More useful and free tools for product managers here.
Certification
Product Management Certifications according to Open Product Management Workflow™ are valid worldwide and show that you have understood content and methodology of working on workflow. Each course finishes with an exam in the end.
Strategic Product Management

Strategic Product Manager
Technical Product Management

Technical Product Manager
Successful Go-To-Market


Product Marketing Manager
Type: Written examination
Price: included in training
Time: at the end of the training

For Inhouse: please contact us.

Edgar Wenkel Product Management RONDO Burgdorf AG Switzerland
"The Open Product Management workflow is fact-based, market-oriented and coherent from start to finish. The preparation through the "Flipped Classroom" gives you the opportunity to study the topics before the seminar starts, in order to practically apply and get to know the individual tools in exercises during the seminar.
The seminar is very practice-oriented. For me the seminar was an eye opener! I regret not having participated years ago! Frank Lemser knows what he is talking about!"
You can find me at interview ...


"Dear proProduktmanagement team,
many thanks for the great training!
I am still enthusiastic and use the materials practically all in daily business. This gives me a standard that I can still adapt to my needs. But it is precisely the start into this tool use that is important and that motivated me a lot.
Super basis to position yourself in the product manager universe and to go in the right direction.
Meanwhile we have already conducted a lot of customer interviews to get to the bottom of the needs of our customers.
At the end of the day, I can inspire the customers. That's extremely fun.
Thanks again,"
Open Product Management Workflow™ courses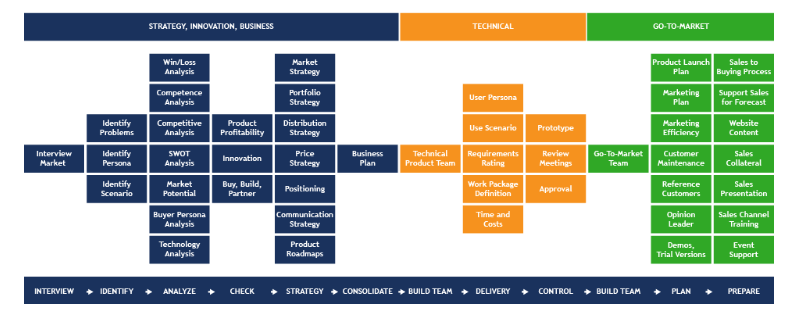 Unique advantages of our Product Management Courses online
In our product management courses online, you will learn everything that technology companies need to be successful and market-oriented, from identifying market problems and personas, effectively assessing and prioritizing product requirements, to successful go-to-market strategies.
Free digital textbooks, a fully automated workflow based product management software for free use as more than 25 templates from our Product Management ToolBox™ are delivered to you and can be used immediately in your company.
Your management can reliably plan investments because your business plan and business case are based on market facts.
For the guaranteed business success, the product management learns the strategic, innovative and communicative leadership for the product.
You will learn how to save hundreds of hours of team work time and how to hand over fact-based product requirements to development with the help of our unique Requirements Backlog Prioritizer™.
You support your marketing team with a market message that is understandable to the customer, with the product positioning tools that are based on market input.
In order to enable your sales team to sell faster and more successfully, you will learn how to develop materials and arguments for each decision-maker (Buyer-Persona) in your target group who is involved in the purchasing process.
No matter if you want to launch a product or improve an existing product, you will be helped in our product management courses online.
Bernd Meier CEO Education HWK
"The product management online courses are practice-oriented, provide excellent, comprehensible instructions for the creation of products and include exercises that deepen the material imparted. It is obvious that the instructors know what they are talking about. Highly recommended for everyone who developes products."
Unique didactics Flipped-Classroom in coures for Product Management
You increase your learning success in the shortest time possible, through our didactics Flipped-Classroom. Acquire the theoretical basics at home at your own pace. Afterwards, you will practice various methods and tasks in the product management training and receive individual support. Thus the learning content is consolidated and you are immediately qualified for the daily implementation.