Product Management Software
The product management software for Jira is the software for product management that is easy to use. The best product management software helps you become faster.
Product Management Dashboard® for JIRA
Make your company up to 50% faster and 31% more profitable
through 100% market-driven & strategic Product Management, Development and Marketing
Save weeks!
Clear tasks & responsibilities through fully automated agile Open Product Management Workflow™
Get in only 2 hours your strategies & Agile Business Plan™ as PowerPoint
Automatically prioritized requirements backlog with Requirements Backlog Prioritizer™
Find in seconds all product materials and info in the Product Materials Library™
Clear tasks & responsibilities
Become faster through clearly defined tasks and responsibilities for Strategic Product Management, Technical Product Management and Go-to-Market.
Fully automated agile Workflow and data-pool
Your strategies, development and marketing fully agile and 100% market-driven with the Agile Business Plan™. Fully automatically prioritized requirements backlog and all information, documents and materials for a successful Go-to-Market in one place.
Always know what to do with TaskSignalizer™
You can see at a glance whether changes have occurred and what needs to be done thanks to the visual cues of TaskSignalizer™.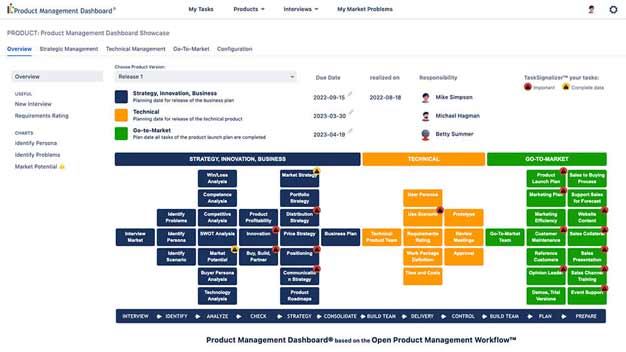 based on Open Product Management Workflow™
Strategic Product Management
Become market-driven, react immediately to market changes with the automatic alert system for analyses and strategies and make your strategies fully agile.
In 2 hours Agile Business Plan™ incl. PowerPoint
Get your 100% market fact based Agile Business Plan™ as PowerPoint in 2 hours, with market potentials, all strategies, prices, costs, market-message and strategic roadmap.
Strategic Roadmaps™ in seconds based on facts
With just a few clicks, you can create a fact-based Strategic Roadmap™ that your management understands.
make your strategies agile and 100% market fact-based
Technical Product Management
Team management, User-Persona, automatically prioritized requirements, project status, time & cost overview and workpackages handover to JIRA in one place.
Requirements Backlog automatically prioritized
Save weeks and get your requirements automatically 100% market-driven and strategically prioritized with the Requirements Backlog Prioritizer™.
Full development overview ProjectTracker™
You always have an overview of development progress, costs, times, the plan and deviations.
save weeks of time, get backlog automatically prioritized with Requirements Backlog Prioritizer™
Go-to-Market & Marketing
Create your product launch plan and marketing plans as a team in minutes. Save time and money by improving their efficiency based on 100% market data.
All marketing & sales materials in one place
Save hours of time for searching, because all marketing and sales materials can be found immediately in the Product Materials Library™.
1 click: sales & channel traings presentation
Save weeks and receive with 1 cklick your sales presentation and presentation for sales partner training.
make your marketing success cost-efficient, planable & measurable
Reference
"Thanks to the Product Management Dashboard, we were able to bring structure into the product management of our company step by step and define the associated tasks.
We work more efficiently because the automated tools support us and all relevant product information is available in one place - at any time - bundled.
The clear guidance of the Product Management Dashboard is convincing all along the line - from market interviews to business plans to product development with just a mouse click!"




Andrea Neumeister
Product Management Coordinator
Reference
"As a CEO, I need facts I can rely on one hundred percent to make confident decisions. That's why I have to be able to rely on the business plans of my product managers.
The Product Management Dashboard simply provides me with a ready-made and very well-structured business plan on the basis of which I can make quick and reliable decisions.
In addition, we have become much faster and more transparent in product development and marketing.
Finally, there is a central repository for all materials for all products, which saves the entire company a lot of time.
The tools for marketing and sales make us faster, save us a lot of money and make us more successful."
Wolfgang Schulz
CEO
Product Management
unique benfits:
Become up to 90% faster and 100% market-oriented in product management with clear responsibilities, tasks and a unified, structured work with automated tools for strategy, technology and marketing.
Get in 2 hours your 100% market fact based strategies and Agile Business Plan™ as a PowerPoint incl. management summary
Prioritize all requirements automatically in 1 second based on strategy, customer benefit, revenue and time
Product management teams can work together on one or more products
You will find all information about the product in seconds, because everything about the product is in one place
Consolidation and automatic evaluation of all ideas and market information from various sources such as customers, sales, management, technology and support in one central location
100% facts, less discussions because automated support for strategy derivations & creation of decision templates
Direct transfer of market requirements as product requirements to development in the native development JIRA
Overall project status at any time, from strategy to technology, through JIRA as common basis
Estimate the development effort and costs for development in a system & receive direct feedback
Management
unique benefits:
Your business becomes up to 50% faster and 31% more profitable through 100% market fact based strategies, Agile Business Plans™, product development and marketing and immediate response to changing market conditions.
1 click to receive compact business plan incl. management summary as PowerPoint, 100% based on market facts
ROI in 1.5 hours for your organization using the Product Management Dashboard (per month)
Avoiding bad investments and increasing corporate success through long-term strategic product planning
Various sources such as sales, product management, management or technology can dump ideas and market information into a funnel which automatically evaluates the information
Reduce meeting time, fewer discussions and faster, more confident decision-making through more market facts
No costs for additional server infrastructure or administration as everything runs on the project management software JIRA
The entire product development takes place in one system, from strategic and technical product management to production
Knowledge remains comprehensible for everyone in the long term, even when employees leave the company, as all knowledge is transparently documented
Product Management Dashboard® Add-On for Sales, Development & Management
Sales, Development & Management can fill the Product Management Dashboard with customer interviews and read the results of product management, if you allow it, with the help of this Add-On for the Product Management Dashboard.
Product Management Software - General and technical information
General and technical information about the Product Management Dashboard, the product management software for JIRA as a plugin: