TAM SAM SOM Method - How to find Market Potentials
How can the TAM SAM SOM method help to find your market potentials & how do you scale it?
TAM SAM SOM is a melodious triangle to find market potentials. A market potential that business owners and investors can rely on. But how do you obtain market facts that are transparent and trustworthy?
Let's see how the three-step method of the Open Product Management Workflow™ method helps you to get 100% market facts for your TAM SAM SOM.
You find statistical data for the Total Available Market (TAM) of your market segment based on real interviews and survey you conducted.
You calculate the Serviceable Available Market (SAM) with the help of your market analysis.
You derive your Serviceable Obtainable Market (SOM) based on your company's strategy and infrastructure.
Let's take a closer look.
Step 1: Find statistical data for TAM
You conducted 20 interviews and additional surveys on employees' reason to quit their jobs. The market analysis revealed that 57% of all employees in US tech companies leave their job due to missing leadership skills.
The market segment is:
"All employees of tech companies who leave their job due to their managers lack in leadership skills."
Upon US Statistics there are 525,000 companies with a 11,8 M employees within the software and tech industries. The total market is 11,8 M.
Step 2: Calculate SAM
Only 57% of all employees share the identified problem: 57% * 11,8 M = 6,72 M
Step 3: Derive SOM
6.72 M employees cannot be reached right away.
How many customers can be served with the infrastructure, manpower in sales and support and the marketing budget available? It is the product managers responsibility to discuss possibilities and take into account the duration of the sales process and how many products sales can be processed by the team?
As a result, only 0.1% of the market could be served or 6,700 employees in our example.
For a prospect investor or your decision makers the SOM of 6,700 is the potential of the near future. The SAM is the room to scale and can be shown with a roadmap for the next years.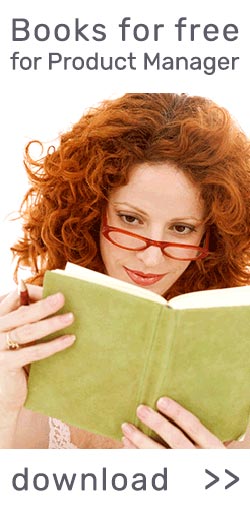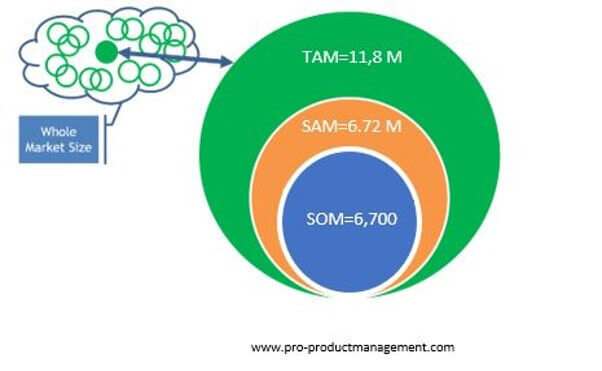 If you want to learn more about how to create a market fact-based segment,
select a target segment, and what a roadmap looks like for decision makers,
you can download our Strategic Product Management textbook here for free.
Overview: Articles and information for product managers
About the author
Ulrike Laubner-Kelleher is a passionate product manager. For more than 20 years she has been involved with innovative products and the optimization of development processes. For many years, she has managed and trained the product portfolios in international product management. She has held leading positions in product development, strategic and operational product management.