Strategic Product Management Course with Toolbox™
In that Strategic Product Management course you learn with the help of our Product Management ToolBox™, consisting of more than 25 Word and Excel templates and the Open Product Management Workflow™ how to get the information and results that help you make fact-based strategic business and technical decisions for:
Innovations
Investments and business case


All strategies such as:

Market definition (market size, market potential, market segments)
Sales channels
Positioning and market communication
Communication channels
Prices
Roadmap

Requirements
Further you learn:
Creation and presentation of an Agile Business Plan™
Save time on operational and tactical activities with unique strategic planning based on the Open Product Management Workflow™.
Whether and how you can become a market leader with existing and new products
How to get to innovations
How to build your portfolio strategically and target-group oriented
The timely identification of risks and weaknesses as well as the control of your product with the help of the Key Performance Indicators (KPI's) defined and measured by you
Furthermore, you will gain a general understanding of roles and responsibilities as well as of the decisive transfer of information in order to work successfully across departments.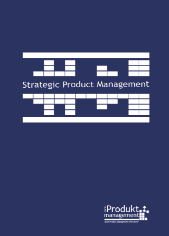 Strategic Product Management Text Book
This is our free text book Strategic Product Management, which you need for the course and you can download here.
Download for free
Didactics Flipped-Classroom, instead of teacher-centred teaching
This course strategic product management with the Word and Excel based Product Management ToolBox™ is conducted according to the didactic method Flipped-Classroom, i.e. you can learn the theory in peace before the course itself. During the course you will train the practical implementation and learn how to use our Product Mangement ToolBox™ we have created for product managers by developing a product.
Download free textbooks and software
Download our free book Strategic Product Management before the course and please read it as preparation for the training. Download product management textbook
As an additional teaching aid, you can use the Product Management Dashboard for JIRA, the software for Product Managers, free of charge. The software provides you with an even simpler, step-by-step, practice-oriented traceability of the course material, as it is also based on the Open Product Management Workflow™ and contains a complete sample product. A full license for you as product manager is already included in the software, so that you can continue to use the software for your strategic product management and daily work after learning.
Course time online
5 days (3.5 hours per day)
Certification, Books & Product Management ToolBox™
$1495 + tax
Who should participate?
Everybody who makes decisions in development, orientation and strategy of a product, its marketing and distribution.
Management
Product Management
Project Management
Marketing
Sales

René Rose Product Manager, 1&1 Internet SE
"The clear advantage of the method over other training courses is that projects are based on facts. In particular, the explanations on the connections between the work steps offer a high benefit. Great practical relevance through examples and clear comprehensibility and comprehensibility for everyday use.
In the future, I will be able to provide decision-makers with well-founded decision documents containing market facts and trustworthy figures. The results in the strategy will enable me to better fulfil tactical tasks." 
Open Product Management Workflow™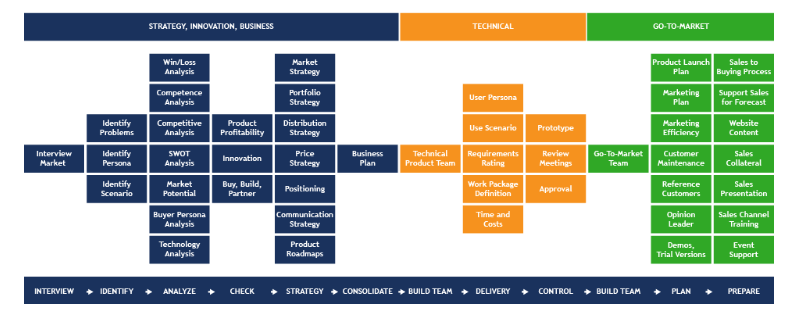 Included Product Management ToolBox™ tools
You will receive the tools for strategic product management:
Market interview protocol
Agile Business Plan™
Competition and SWOT analysis
Win and loss analysis
User and Buyer Persona
Roadmaps (strategic)
KPI
Positioner
Positioning document
Technology added value analysis
Plus numerous other
All strategic product management tools are included in the Product Management ToolBox™.
Contents of the course "Strategic Product Management"
Importance of market orientation
Companies that work strategically and market-oriented are more profitable because they use existing resources more effectively, waste less resources, time and money.
You learn:
The market-in-product approach
How and where to conduct interviews
How you conduct interviews. and you are actively coached by our trainers
Which information of the interviews is important for you
How to store the information in the Interview Protocol to be able to process it further
The definition of the market & determination of the size of the potential market
Strategic role of product management
When companies are working it is difficult to decide where the responsibility of product management ends and another department begins. Learn to map responsibilities so that each department optimizes its contribution to the success of the product.
Definition of the role of the product manager
Determination of tasks and responsibilities
Learn the balance between strategic and operational/tactical tasks
Possibilities of the division of the different roles in product management
Finding unresolved market problems
Your company is full of product experts. Your company needs market experts.
Learn to discover and validate unresolved market problems
Research techniques for all market types
Effective profit and loss analysis
Tips and how to analyze the market with the tools from our Product Managment ToolBox™
The definition of the market & determination of the size of the potential market
Filter & prioritize possibilities
Not all possibilities are the same. Learn a proven, repeatable and unbiased method for evaluating and comparing possibilities.
Identify and prioritize opportunities that fit your market needs, corporate strategy and technology strengths for maximum ROI
Market research and market review
Prioritization techniques
Practical roadmaps
Supply of market correlations
When you have collected and analyzed all available market data, pass on the information in the form of key tools.
Learn to use these tools, create a common understanding across the entire organization and empower sales, marketing, development and management to communicate it.
Product-Positioning & Market Message
Purchasing process
Case studies
Business plan & decision templates in 2 hours
Millions of euro and dollar product decisions are made every day, without a full understanding of the implications that this entails.
Learn how to develop a consistent and 100% fact based Agile Business Plan™ and business cases in a simple process, secure the investment and obtain approvals based on well-informed decisions and without surprises.
Strategic orientation
Buy, develop or Partner?
Pricing
Profitability
Data consolidation with Agile Business Plan™
Risks and success factors Measurement and control with KPI's
One of the tasks of the product manager is to identify risks and weaknesses at an early stage in order to counteract them with suitable measures, but also to identify success factors in order to further develop them.
Learn how to define Key Performance Indicators (KPI) for your product and how to measure them to control the success of your product.
Long-term success with the help of Key Performance Indicators (KPI)
Define the important and correct KPI's for the product
Identifying risks in good time and taking countermeasures
Measuring and expanding success
Prerequisite for product development & Successful Go-To-Market
In this course you will gain first insights into the product planning and planning of a successful Go-To-Market.
Get to know the connections between the individual phases of product management and learn how the results of strategic product management can be used in product development and for a successful go-to-market.
Identification of Problems, Scenarios & Persona
Derivation of all strategies from market information & analyses
Relationship: Persona -> Sales channels, communication channels, Go-To-Market
Relationship: Persona -> Product development